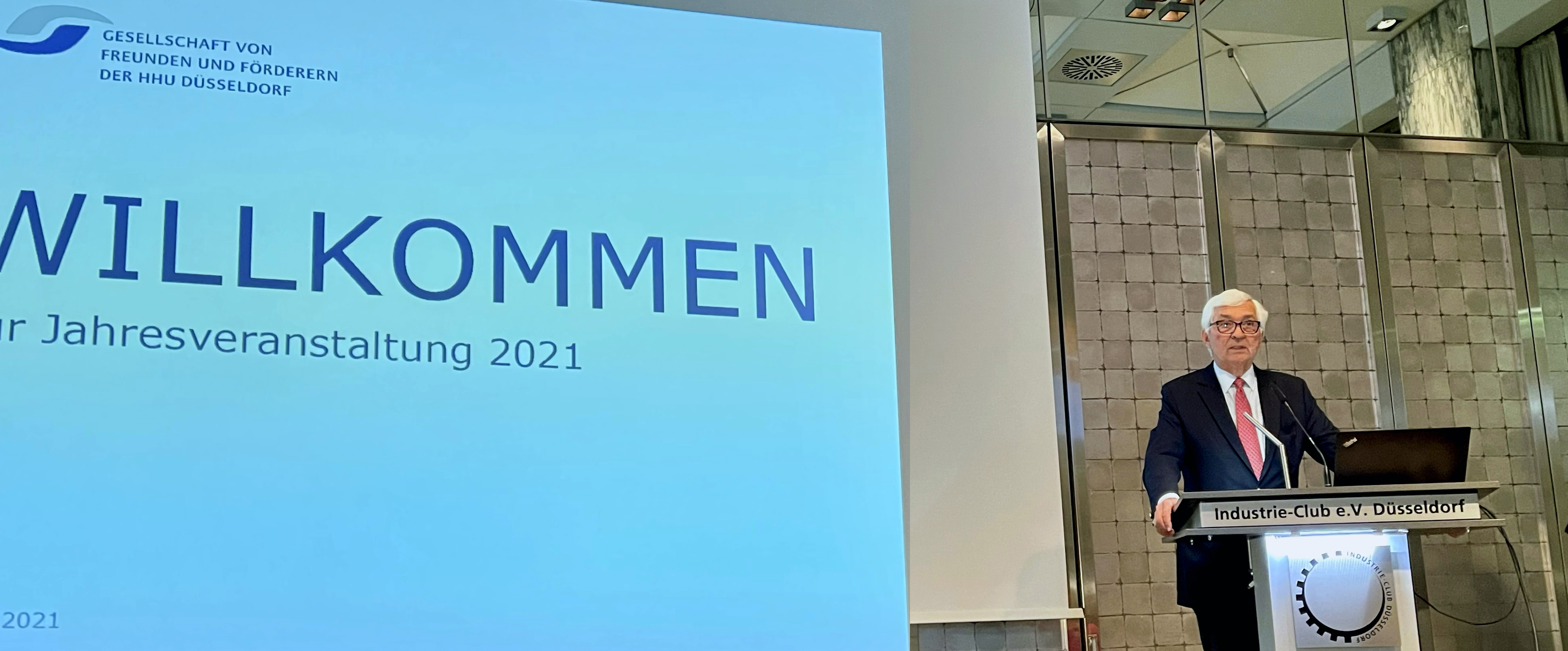 GFFU still on course: 2.8 million euros for research and teaching
GFFU still on course: 2.8 million euros for research and teaching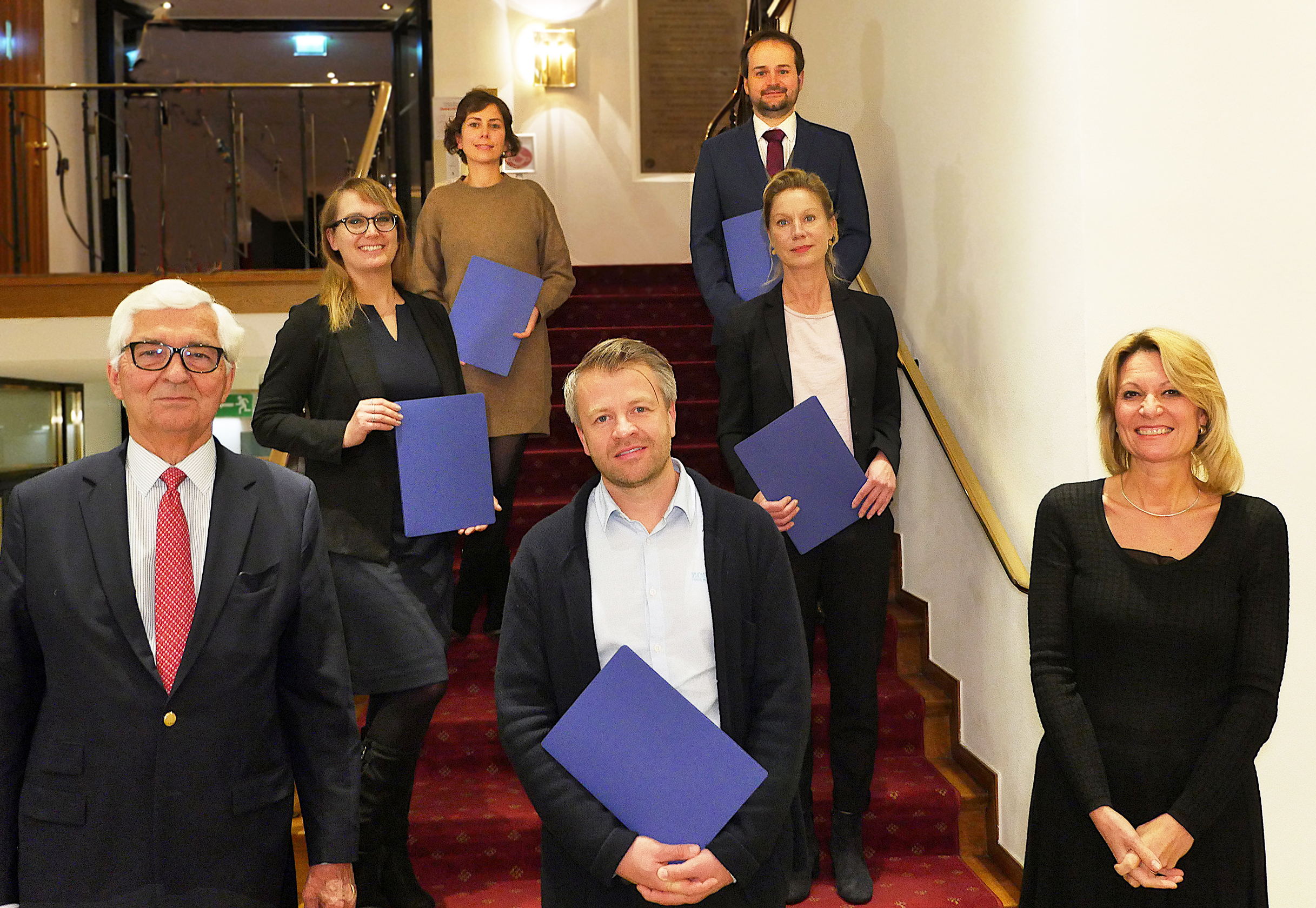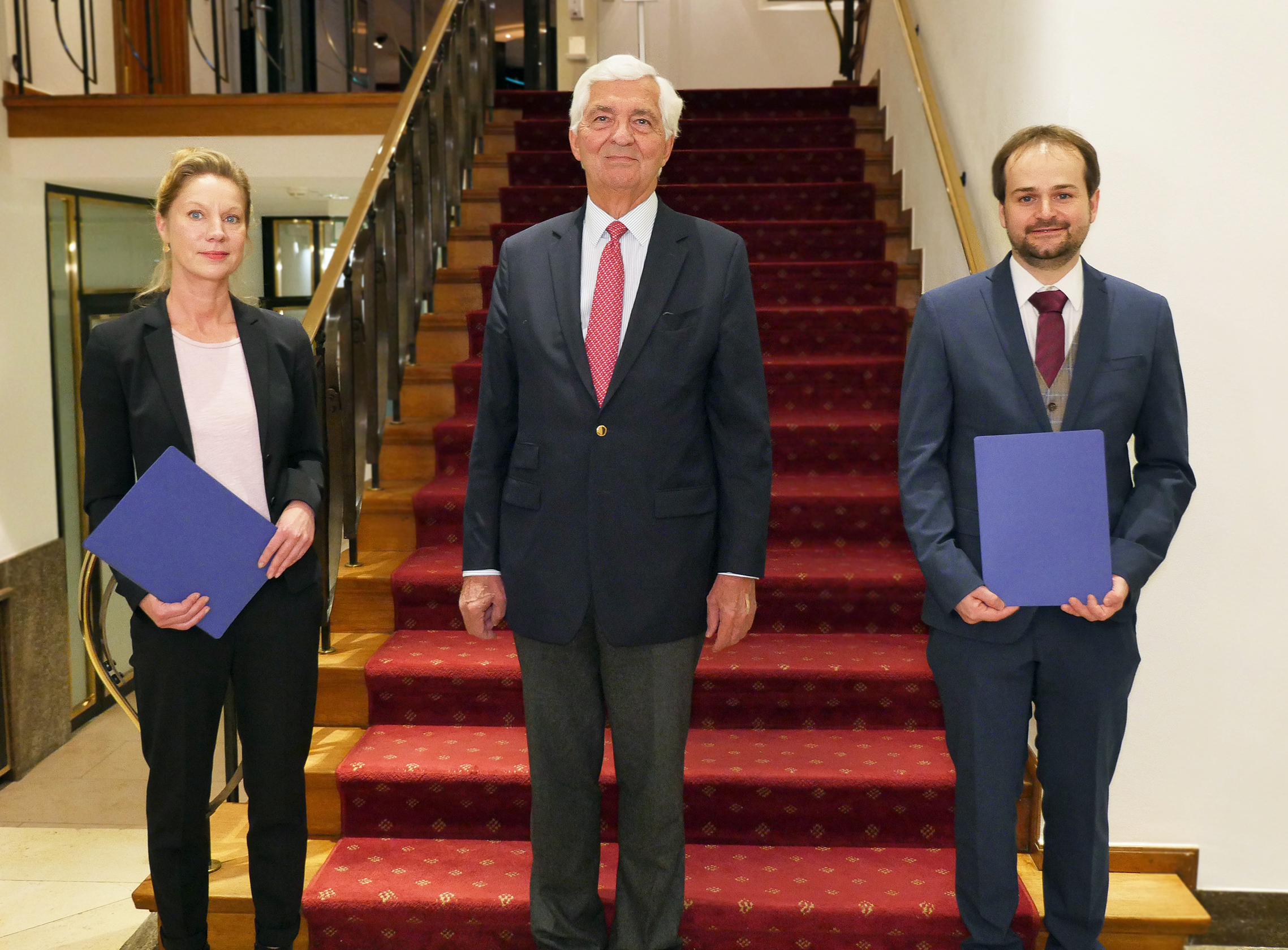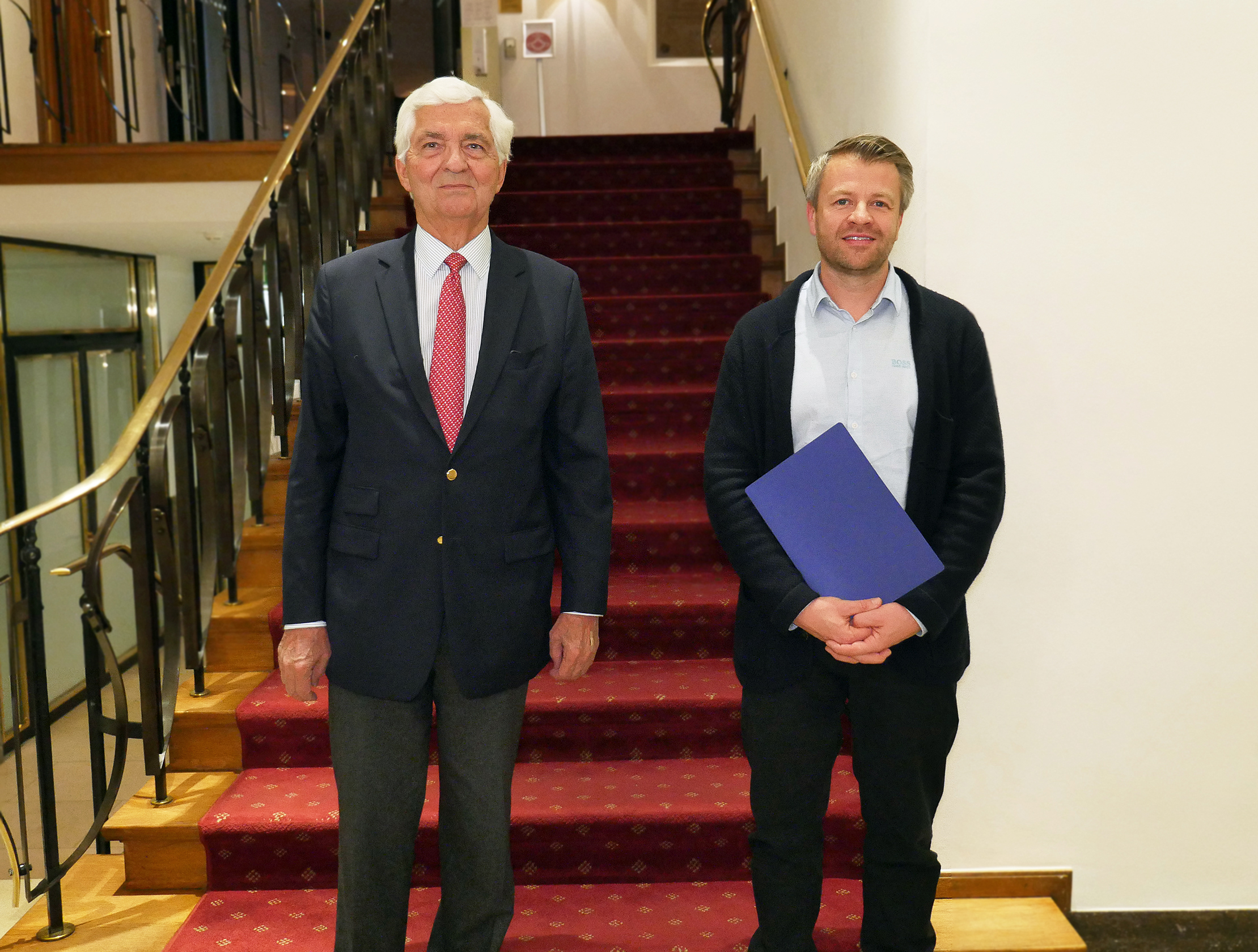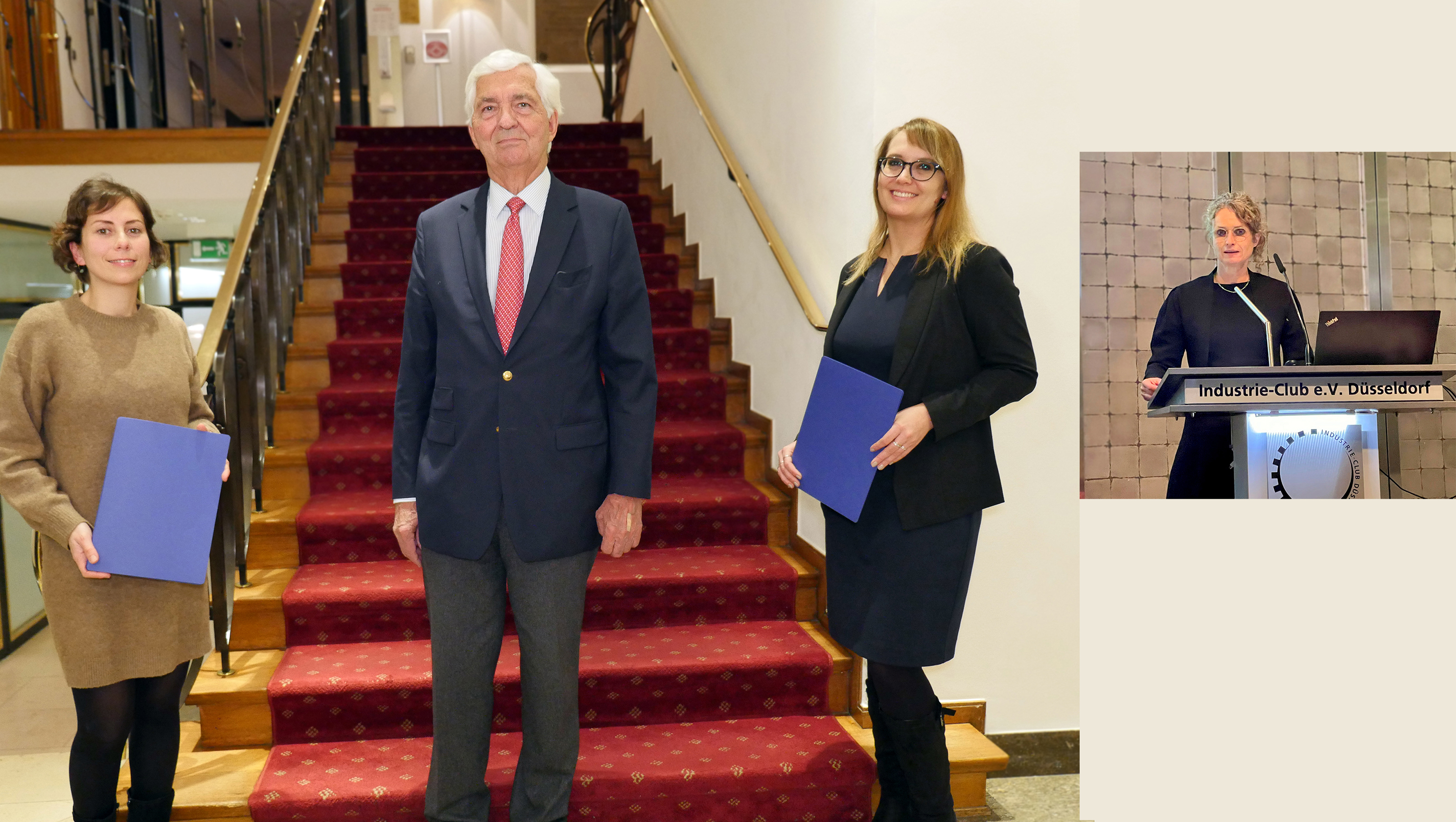 2021 annual meeting of the GFFU on 17 November
The GFFU (Gesellschaft von Freunden und Förderern der Heinrich-Heine-Universität Düsseldorf e.V.) and the 24 foundations it manages provided a total of 2.8 million euros in 2020 to fund research and teaching (previous year: approx. 3.95 million euros). This was announced by GFFU President Eduard H. Dörrenberg at the association's annual event on 17 November 2021 in the Düsseldorf Industrie-Club.
At the 2020/21 double annual event on 17 November, which took place under 2G regulations with an even more stringent hygiene concept, Dörrenberg noted that these figures are a testament to the association's sustained commitment during difficult times of COVID lockdowns. The association and foundation assets amounted to around 47 million euros at the end of 2020. Despite interest rates remaining extremely low, the GFFU President expects a payout ratio of around 3 percent for the current year for fulfilling the purposes of the foundations and the association. This would meet the previous year's return.
The term of office for two members of the Executive Board ended on 31 December 2020: Andreas Schmitz and Prof. Karl-Heinz Spatschek. Andreas Schmitz is available for another term of office. Because of the cancelled general assembly, the members have only now been able to subsequently confirm him in office.
Prof. Spatschek left the Executive Board of his own volition due to his age. As his successor, he proposed Prof. Lutz Schmitt, who had been acting as a provisional board member until his confirmation by this year's general assembly on 17 November and has now been confirmed.
This year, the GFFU startup competition 2021, which has now become an institution, was held again. This competition was geared towards teams of young researchers who already have a more advanced business concept. The award, once again endowed with 50,000 euros, went to the "DNTOX" team led by Dr. Stefan Masjosthusmann, Kristina Bartmann and Dr. Katharina Koch. The "DNTOX" team came out on top with an innovative test alternative to the previously common animal testing in pharmacy and chemistry.
Since the annual event had to be cancelled last year due to the pandemic, five scientific prizes were awarded at this year's event.
The GFFU award, endowed with 10,000 euros, went in equal parts to:
Adjunct Professor Dr. Sonja Klein for her outstanding habilitation thesis on the subject of "God's Glorious Image. The Body in the Work of Goethe" and
Adjunct Professor Dr. Stephan Trinkaus, for his outstanding habilitation thesis on the subject of "Precarious Community. A Diffractive Theory of Holding."
(Unfortunately, Dr. Trinkaus was unable to attend the presentation of the certificate that evening).
The GFFU Award for 2020 went to:
Adjunct Professor Dr. Matthias Köhne for his outstanding habilitation thesis on the subject of
"Free and Dynamic Boundary Value Problems for Incompressible Newtonian Flows"
The 2020 Reinhard Heynen and Emmi Heynen Award, endowed with 12,500 euros, went to:
Adjunct Professor Dr. Sven Gould for his outstanding scientific achievements in the research of molecular evolution.
Research Award of the Dr. Günther and Imme Wille Foundation in the field of medicine and life sciences, endowed with 10,000 euros, went to:
Dr. Margaretha A. Skowron for her work on "CDK4/6 inhibition presents as a therapeutic option for paediatric and adult germ cell tumours and induces cell cycle arrest and apoptosis via canonical and non-canonical mechanism"
and the 2021 Wille Research Award went to:
Dr. Gizem Inak-Girrbach for her work on: "Defective metabolic programming impairs early neuronal morphogenesis in neural cultures and an organoid model of Leigh syndrome".
Press coverage of the event: RP Online article on the topic (in German, external link, please click)